Read What Customers Have to Say About Midwest Fastener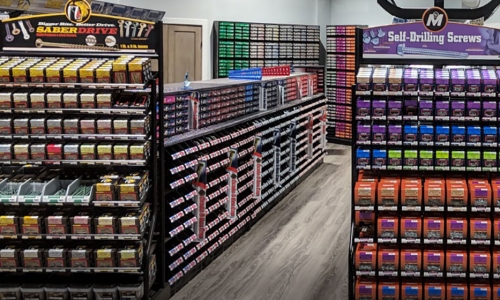 Midwest Fastener has worked hard for 55 years establishing and maintaining our stellar reputation as the nation's premier supplier of a wide selection of fasteners. We foster strong, long-term relationships with our extensive client base, giving us a full understanding of what clients in the industry need and how to provide solutions for those needs. Through our many years of service, we have worked with high-profile clients from large hardware chains and national retailer cooperatives to a full range of contracting companies, large and small. We go the extra mile to make sure our customers are satisfied with our products and services. Read further for testimonials from some of our many satisfied clientele and employees.
"We've been in this industry for 46 years, we pride ourselves on carrying inventory that you can't get at the 'big box stores', it's one of the things that sets us apart." – Mike Fullaway – Calaveras Lumber, Angels Camp, CA
"We consider ourselves experts in old school quality and service, carrying Midwest allows us to provide our customers with an outstanding selection of quality fasteners." – Jodie Brixey – Calaveras Lumber, Angels Camp, CA
"Midwest Fastener has transformed our store into a true fastener destination. We've worked with Midwest for approximately 13 years and could not be more pleased with the selection of products, availability and the personal service we receive from our Rep Brian Kocjan. We are thrilled with our fastener section and extend our thanks to Midwest!" – Robyn S. Gillett – Hemly Tool Supply Inc., Thompson, OH
"When it comes to fasteners, Midwest is the place. Bulk, prepackaged or special order. Midwest Fasteners is America's fasteners destination." – Local Guide, Google
"Midwest is a great place to work. Nearly everyone here is family oriented, and I've never had an unkind word to say about any of the management. Great people, great environment, just all around super. I love working here." – Current Employee, Glassdoor
"Expanding the aisle of Midwest Fastener products has been very helpful in servicing our customers. Our customers are extremely pleased with the selection in our new Bolthouse area!" – John and Carol Bolthouse – Ace Hardware, Hastings, MI
No matter what your fastener needs might be, you can count on Midwest Fastener to provide you with the quality products and attentive service. If you have any questions about the products we provide, feel free to Contact Us and let us know how we can help.