Why Choose Fastener Suppliers With Nationwide Distribution?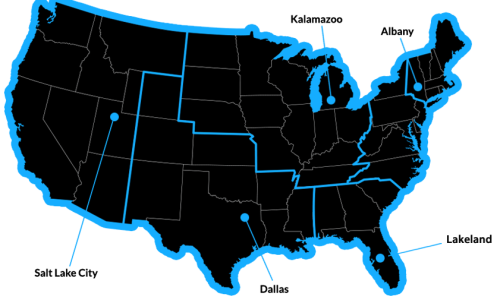 No matter where you are in the continental United states, you can still take advantage of the high-quality fasteners products that Midwest Fastener has to offer. Working to deliver the stainless-steel fasteners, nuts and bolts, and other fasteners products our customers need as fast as possible, our national distribution network allows us to serve your business anywhere within the United States.
An industry leading fastener supply company supplying businesses, builders, and more with high quality fasteners products since 1967, Midwest Fastener is committed to bringing companies throughout the United States the best fastener products possible. When your business is in need of a reliable supply of high-quality fastener products from some of the most trusted brands, you can count on Midwest Fastener to deliver.
Serving Companies all Throughout the United States
Midwest Fastener is ready to get you your fastener products fast. With over 1,000,000 square feet of warehouse space divided over five warehouses located throughout the United States, you can rest assured knowing that we have the fasteners you need stocked and ready to go within two days of ordering. With warehouses located in Albany, Dallas, Kalamazoo, Lakeland, and Salt Lake City we will be able to reach your business no matter what region of the contiguous united states your business is located in.
Working Fast to Keep You Well Supplied
Carrying over 40,000 SKUs and able to process orders within 48 hours, and with a 98% fill rate, our nationwide network of warehouses help us to provide your business with a reliable supply of some of the best fasteners brands in the industry, including Midwest Fastener's own brand lines of TorqueMaster, HangMaster, and SaberDrive. When you choose a supply from Midwest Fastener you can count on us to keep your business well supplied with some of the highest quality fastener products. With a full catalogue of bulk and assorted fasteners you can be sure that your business is receiving the fasteners it needs to keep your aisles well stocked so that you and your customers are satisfied.
If you need a reliable supply of fasteners from a leading fastener manufacturer, and distributor, you can count on Midwest Fastener to deliver some of the most reliable fastener's products to your business no matter where you are located within the continental united states. Contact us today to learn more about how Midwest Fastener's Nationwide distribution network can help keep your business stocked.