Where Does Your Fastener Supplier Ship From?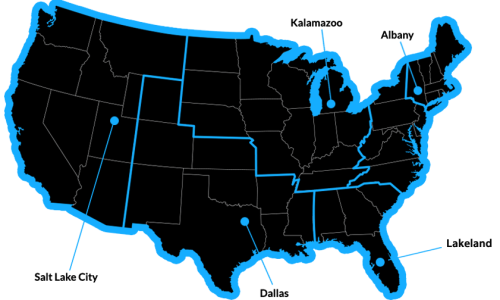 If you have ever wondered where your fastener supplier sends you products from, Midwest Fastener maintains a national network of warehouses that we use to house your components and get them to you in record time. These distribution warehouses allow us to provide every customer that orders with us a reliable system to ensure that they always receive their essential inventory where and when they need them.
We pride ourselves in providing excellent fulfillment rates with our products, with our latest estimates at 98%! From the beginning, Midwest Fastener has always looked for ways to provide our customers with the best benefits for their fastener needs, and our distribution network continues to help us fulfill their needs wherever possible.
Where we are located
Our nationwide distribution warehouses are spaced out into different regions to allow us to have coverage throughout the continental U.S. Our western warehouse is in Salt Lake City, our Southern warehouse is located in Dallas, our midwestern warehouse is in Kalamazoo, we have a southeastern warehouse in Lakeland, and a New England warehouse in Albany. These function as the perfect places to ship products from to allow for reliable delivery anywhere.
This expansive reach allows us to process all orders within 48 hours, meaning you always get fast delivery every time you order.
What we offer
Beyond our capabilities of excellent shipping times and fulfillment, customers love ordering from us because of the extensive selection of products that they have available to them every time they order. From refills of assortments to bulk orders of single products that they are running low on, our customers have everything that they need just a simple online order away.
Our inventory is one that has been built up over 5 decades, allowing us to learn the markets we serve and provide the products that they need, from the smallest of hardware stores to large, corporate operations. The brands we sell are some of the best in the business and provide quality components for any application.
Next time you need fasteners, you can order from Midwest Fastener knowing where your products are coming from and how quickly you will receive them whenever you order. Our flexible fulfillment and massive inventory can help your store regularly stay stocked whenever necessary. Contact us today to learn more about the fasteners that we have available and how our nationwide network functions to serve you!