Trusted Brands from a Trusted Fastener Supplier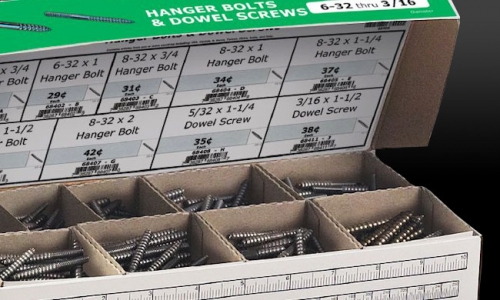 When you want to keep your customers happy, you need to work with a proven, reliable fastener supplier. Striving to exceed expectations, Midwest Fastener firmly maintains a commitment to offering the highest quality fastener products. Our products, coupled with our intensely knowledgeable team of experts, have positioned us as the industry's go-to source for building out – and stocking – effective fastener destinations. Since 1967, we've aimed to grow our catalog by offering additional brands, including our famous HangMaster, TorqueMaster, and SaberDrive lines. In today's post, we're going to take a closer look at what these brands are and – more importantly – how they can help you create a profitable aisle.
SaberDrive
Requiring no pre-drilling, SaberDrive fasteners all have serrated threads. Case hardened to ensure that they're able to stand up to even the most rugged applications, they are considered "the ultimate construction fastener" and are engineered to outlast all other fasteners.
HangMaster
Perfect for hanging picture frames, keys, and more, HangMaster packs are color coded to ensure that your customers can quickly and easily find exactly what they're looking for. Shown to increase sales by up to 20%, these fasteners come in bright colored, information-rich packaging that makes selling a breeze.
TorqueMaster
When it comes to anchors, our TorqueMaster line is the longest lasting, strongest option on the market. From hex screws to concrete anchors, their durability is unmatched. Manufactured from a hardened alloy steel that resists breaking, they've become a trusted option for both indoor and outdoor applications that require additional durability.
At Midwest Fastener, we're committed to acting as the industry's most trusted, most knowledgeable fastener supplier. For over fifty years, we've maintained a firm commitment to upgrading our product lines, expanding our catalog, and improving our ability to meet – and exceed – our customers needs. If you've been searching for a new supplier, we encourage you to browse our site, take a look at what we have to offer, and contact us with any questions.