Trust a Fastener Distributor With a Nationwide Network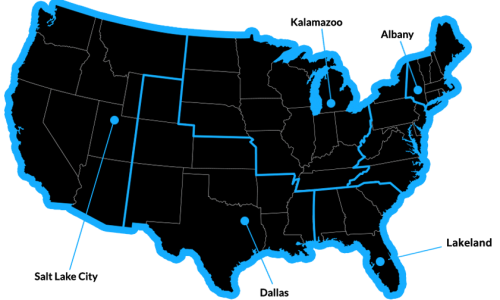 Whether your operation is in a major metropolitan area or a secluded borough, you need a fastener distributor with a wide, national network. More than that, you need to work with a trusted distributor that has a proven track record of meeting — and exceeding — expectations. For over fifty years, Midwest Fastener has worked to build and uphold its reputation as the industry's most reliable, far-reaching fastener supplier. Whether we're supplying stores with one-off hanging products or we're working to design and implement a series of aisles, we strive to deliver exactly the products our customers need, when they need them, and — most importantly — to wherever they need them.
Our nationwide network supplies a wide range of fasteners, including nuts and bolts, stainless steel fasteners, and other essential components. Best of all, with all orders processed within 48 hours, we are able to achieve a 98% fill rate. What does that mean? It means that no matter where you are or what you need, we can make it happen. With distribution centers located in Albany, Lakeland, Salt Lake City, Dallas, and Kalamazoo, there's no location in the continental United States that we're not able to make timely, reliable deliveries.
At Midwest Fastener, we're committed to upholding our reputation as the industry's most trusted fastener distributor. No matter the size of your store, the number of locations, or its needs, you can be confident that we're well equipped to rise to — and overcome — the challenges that you face. So, if you've been searching for a new distributor that will keep your aisles stocked and easily shopped, be sure to browse our website, learn more about what we have to offer, and contact us with any questions that you may have.