Stock More with Midwest Fastener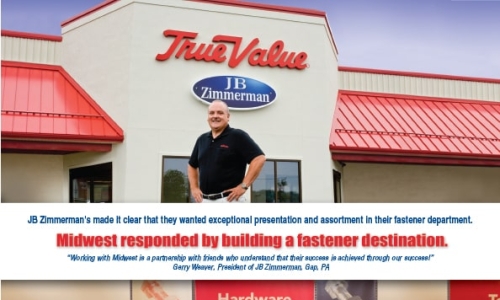 If you're searching for a new fastener manufacturer to work with, you already know how important it is to choose one with a massive selection. Your customers expect your aisles to be stocked with a range of high-quality fasteners. They want to visit one store, one location, for all of their needs. That's why Midwest Fastener is committed to helping our customers create fastener destinations. Fully stocked, color coded, and easy to browse, our aisles ensure smooth transactions and excellent customer experiences. With help from our team, you can transform your aisles into a vibrant, eye-catching place with enough options to satisfy even the pickiest customers!
Offering over 40,000 SKUs, our catalog includes an unmatched number of fasteners, including sheet metal screws, nuts and bolts, deck screws, and drywall screws. Available in a range of packaging options, our goal is to streamline the shopping experience. When your customers' projects are already complicated, why should sourcing their supplies be another source of frustration? With color-coded packaging, eye-catching branding, and intelligently organized displays, our aisles are — quite simply — just easier to shop. Because of this, you can count on satisfied customers, happy employees, and better profits.
At Midwest Fastener, we are continually working to uphold our reputation as the industry's best fastener manufacturer. With our extensive catalog and knowledgeable sales team, you can rest assured that we'll work with you to create aisles that grab the attention of your customers. Better yet, we'll help you translate that attention into more sales! So, if you've been searching for a better way to merchandise your fastener aisles, we encourage you to browse our site, learn a little more about us, and contact us with any questions that you may have!