Purchase Construction Fasteners and Supplies from a Trusted Manufacturer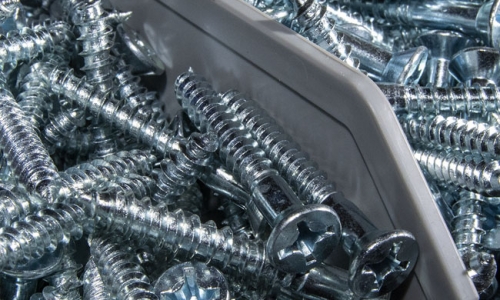 At Midwest Fastener, we have every construction fastener and fastener supplies that your business requires for its jobs. From build construction screw assortments to Saberdrive brand screws and driver bits. We believe in providing everything that our customers need to prosper in their business. In addition to our fasteners, we have hanging packs for organization, keys, signs, letters, and numbers for your hardware store. We make it easy with our nationwide distribution and multiple warehouses strategically located throughout the USA.
Construction Fasteners
We offer bulk shipments of construction fasteners and suppliers for our customers. We have cabinet screws, cement board screws, framing screws, gutter screws, lath screws Phillips's truss, painted pole barn screws, self-drilling screws, plastic shutter spikes, and painted stitch screws. For our drill bits, we have acoustical lag driver, double end bits, locking bit holders, magnetic bit holders, chucks, and nutsetters, Phillips's driver bits, slotted driver bits, and more. With Midwest Fastener, you have our huge catalog to browse through and choose from. Click here for more construction fastener options!
At Midwest Fastener, we are your single source for nuts, bolts, screws, and any kind of fastener you require. If you are looking to stock a wide array of fasteners, including drywall screws and bolt fasteners, we offer a variety of pre-organized color-coded kits that we call assortments. We have them available in smaller quantities that have a lot of options for arranging them in a small space or store. From our household screws to plumbing and construction – we have the assortment that will work for you and let your customers easily identify and located the fasteners they want for their projects.
Nationwide Network
Our nationwide network allows for a faster delivery of product to your store and customers. Without the lag time, we can have your shelves stocked within 48 hours at a 98% fill rate. We know that customers rely on timely, accurate deliveries. That is why with our expansive warehouse space and locations, you can count on us to deliver your assortments of fasteners and supplier when you expect them. Located in Salt Lake City, Kalamazoo, Albany, Dallas, and Lakeland – we have modern warehouses in every corner of the United States.
When looking for construction fasteners, fastener supplies, and quick delivery, contact Midwest Fastener. As the industry's most knowledgeable fastener company, we strive to make sure to answer any questions you have about our products and merchandising opportunities.