Our brands of Construction Fasteners, Nuts and Bolts, and More!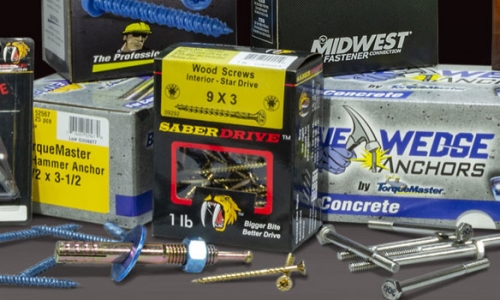 Partner Brands
Midwest Fastener is proud to partner with some of the industry's most recognized names to offer high quality construction fasteners, nuts and bolts, metal fasteners, and more. From the concrete anchoring capabilities of Red Head to the high-performance products available from Toggler and Rayfix, Midwest Fastener is your one-stop source for all your project needs.
Red Head is a manufacturer of concrete anchoring and reinforcement solutions. They focus on the product lines for adhesive, expansion, and screw anchors. Their intense focus and commitment to quality have made them a trusted fastener supplier. Toggler is known for their line of anchoring solutions, offering a selection of multi-functional anchors. Rayfix manufactures and supplies branded wall anchors. From drywall anchors to plastic toggle anchors, these brands are a go to source for Midwest Fasteners.
Midwest Fasteners also supplies the consumer-recognized and trusted brands of HangMaster, TorqueMaster, and SaberDrive.
HangMaster
HangMaster hanging packs are pre-labeled, pre-priced, and color coded to allow for consistent stocking and easier shopping. Placed at eye level, the packaging allows for additional inst
ructions and product information, including trilingual descriptions. In many cases, HangMaster packaging has been shown to increase sales up to 20%, simply due to its location, vibrancy, and the clarity of the packaging. If you would like to make the most out of your display space, boost your fastener sales, or provide a better customer experience – HangMaster is the solution.
TorqueMaster
When you need strong and long-lasting anchors, TorqueMaster is the answer. With its hardened alloy steel to eliminate breakage and its exterior coating ready for ACQ lumber, they offer superior product quality. Whether you're looking for concrete anchors, hex screws, or other important fasteners, you can trust the durability of TorqueMaster. Available in a variety of display options, including counter, hanging packs, and bulk displays, the TorqueMaster brand has gained a reputation for outlasting competitors and being the most reliable anchoring solution out there.
SaberDrive
SaberDrive construction fasteners save time and money with their elimination of pre-drilling requirements and unique serrated thread for secure fastening. Made with heavy-duty project needs in mind, they incorporate a range of features that make them a reliable and sturdy screw. Whether you're in the market for drywall screws, structural fasteners, decking screws, and other fastener products, they are a proven, customer-trusted option. Available in different preset options, they can be displayed in tubs, mobile carts, hanging packs, and more.
Dual-Slide & Find-It-Fast
To complement Find-it-Fast put-away codes and to help differentiate between mixed assortments, Midwest has introduced new assortment boxes, completely customized and color-coded. These help with put-away, stocking, and shopping, as the merchandising features more complete color-blocks for each category. New assortment boxes also feature a measuring ruler closer to the product and can be used with our Dual-Slide Racking System, which allow for five additional assortments.