Midwest Fastener's National Network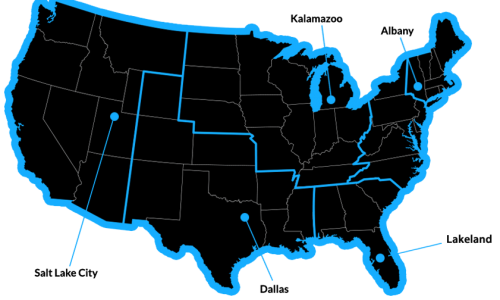 Founded in 1967, Midwest Fastener has been providing the most trusted brands across the nation for over 40 years. Midwest Fastener has five locations across the United States in Kalamazoo, Albany, Lakeland, Dallas, and Salt Lake City. With over 600,000 square feet of efficient warehouse space, you can count on us to deliver your order on time, all the time. Our large warehouse space lets us process everyone's orders within 48 hours with a 98% fill rate. We know that our clientele relies on accurate delivery dates and our nationwide distribution capabilities allow us to go above and beyond the expectations with our economically efficient and reliable delivery service.
Midwest Fastener's nationwide network allows us to get products processed and shipped to you with a speedy turnaround rate. With our expansive warehouses, we are also able to store the products you need, as well as a larger selection of in-stock items. Through our distribution, we provide a more reliable stream of essential inventory items when you need them. Our network also allows us to partake in merchandising programs, this enables us to provide customized display designs that meet all your needs while maximizing retail space.
Striving to fulfill our role as the industry's most trusted fastener distributor, Midwest Fastener values all our partnerships. We work with our partners to ensure increased sales and better customer experiences. We are proud to work with all the major co-ops and distributors in the United States and utilize these relationships to help our partners gain customers. Whether you're looking to stock metal fasteners, sheet metal screws, bolt fasteners, drywall screws, or one of over 40,000 SKUs that we distribute, you can count on Midwest Fastener to meet your expectations.
As the nation's premier fastener manufacturer, we offer a wide variety of construction fasteners, bulk products, and pre-boxed assortments. Whether you are looking for the convenience of our project sized Hangmaster products or the reliability of Torquemaster, our product lines are designed to make stocking and selling simply. If you have been searching for ways to improve customer retention, simplify stocking, reduce merchandising costs, and increase profits, Midwest Fastener can help! With years of experience, a complete focus on service, and an unwavering dedication to innovating new, useful products, we aren't just a supplier, we are a partner.