Midwest Fastener: a Fastener Supplier with the Brands and Products You Need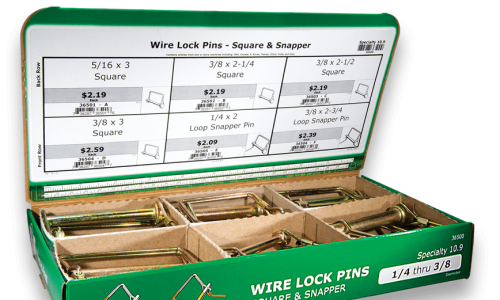 When you're looking to keep your customers happy and ensure they return to your store, you owe it to yourself — and to them — to work with a fastener supplier that delivers. Aiming to uphold strict quality standards in regards to our products, our customer service, and our merchandising, we are the industry's go-to source for effective, proven fastener aisles. Our team can work with you to explore our vast catalog and stock your aisles with the fasteners that your customers want, whether they're from our SaberDrive, HangMaster, or TorqueMaster lines. Best of all, with over half a century of experience, we're positioned to help you today, tomorrow, and far into the future, no matter what you need or how your store grows.
Our primary line, SaberDrive, offers a huge range of benefits, including serrated threads, case hardening, and top-quality engineering that focuses on durability, longevity, and reliability. With the aim of helping your customers save a large amount of time, money, and hassle, they are ideal for heavy-duty projects. Suited to a range of applications, including deck building and drywall hanging, they are a time-tested option that customers have come to trust.
Now, your customers can get the same trusted fasteners in an upgraded form! SaberDrive Platinum are the pinnacle of precision fasteners. ICC approved and designed with large, heavy-duty projects in mind, this line offers the absolute best drywall screws, deck screws, and structural screws on the market. If you have discerning customers who demand the absolute best, you can be confident that SaberDrive Platinum will meet — and exceed — their expectations.
At Midwest Fastener, we strive to live up to our reputation as the industry's premier fastener supplier. Offering a selection of the industry's highest quality fasteners, we encourage you to reach out to us if you are looking to revamp and upgrade your store's fastener aisles.