Keep Your Customers Satisfied with a Stock of High-Quality Fasteners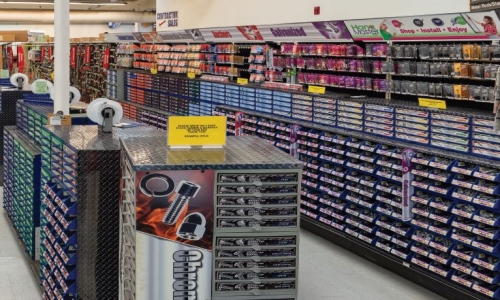 Having a supply of strong and reliable fasteners in your store is important when you want your customers to be satisfied with their purchases. By stocking your fasteners from a reliable manufacturer, you can ensure that you have fastener products that meet and exceed your customers' expectations. As an industry leading fastener supplier and manufacturer, Midwest fastener is ready to provide your business with the fasteners stock it needs to ensure your customers' satisfaction. Dedicated to providing the most reliable fasteners to the hardware industry, Midwest Fastener offers an extensive catalog of high-quality fasteners products.
A Reliable Supply of Quality Brands
Readily available in assorted packaging, bulk quantities, and hanging packs, Midwest fastener is ready to supply your business. Whether your part of large nationwide chain of hardware stores or locally owned business that has limited store space, you'll be able to keep your shelves stocked with high quality fasteners from the leading fasteners manufacturers in the United States. Midwest fastener carries some of the most trusted brands from some of the best fastener manufacturers, with its own brand lines of TorqueMaster and SaberDrive providing some of the most durable and reliable fasteners on the market.
Streamlining the Shopping Experience with Organized Packaging
Choosing to stock your store with fastener products from Midwest fastener also means that you're choosing to streamline your customer's shopping experience. With the assorted kits and hanging packs offered by Midwest fastener, you'll be able to not only organize your aisles in a way that helps you save space, but you'll also make it far easier for your customers to find what they are looking for. Grouped into packages for specific project needs, assorted and hanging packs from Midwest fastener group screws, nuts and bolts, and more into shopper friendly packaging. Making products easier to find with color coded and eye-catching packaging that can complement your store, you can make use of the Dual Side find it fast packages to keep fastener assortments organized and can be quickly restocked, making for a functional and visually appealing display for your store's aisles.
Providing businesses throughout the United States with reliable fasteners products for over 50 years, when you choose to stock your business with a fastener supply from Midwest fasteners, you can be sure hat you are providing your customers with some of the best fasteners on the market, while also providing them with an easy, streamlined shopping experience that will leave them satisfied. For more information about the stock of fastener products Midwest fastener has available, contact us today!