Construction Fastener Supply from a Dependable Source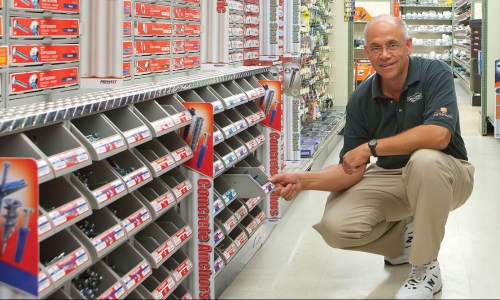 With a catalog containing more than 40,000 high quality construction fasteners from the best brands in the industry, Midwest Fastener is the premier supplier of screws, nuts, bolts, and other fasteners to businesses throughout the United States. We take great pride in working with our customer base to make sure they have everything they need for long-term success, including hanging packs for keeping keys, signs, letters, numbers, and other products organized in your hardware store. With a nationwide network that includes several warehouses located throughout the United States, Midwest Fastener is equipped to handle all of your fastener supply needs. In today's post, we'll discuss some of the many benefits of working with Midwest Fastener as your construction fastener supplier.
Quality Construction Fasteners from the Most Respected Brands
Midwest Fastener can provide your business with dependable bulk shipments of numerous types of construction fasteners from brands you can trust. From simple screws, nuts, and bolts to a full range of specialty items like plastic shutter spikes, painted pole barn screws, self-drilling screws, and painted stitch screws, we can provide you with quality fasteners for just about any application, ensuring that you and your customer base has the right parts to be successful. We also have a full selection of anchors, nails, tacks, brads, coiled wire, washers, bits, keys, signs, and just about anything you would need. If you would like to explore our inventory for yourself, you can do so here.
Take Advantage of Our Nationwide Network
Because we have a large nationwide network, we can provide your store and customers with the quality fasteners you need with much quicker turnaround times. We have the capability to get your shelves properly stocked at a 98% fill rate within 48 hours of your order, due to us not having to deal with any lag time. We take great pride in delivering accurate orders in a timely fashion, which we can accommodate with modern, fully-stocked warehouses across the country in Salt Lake City, Kalamazoo, Dallas, Albany, and Lakeland. This means that no matter where you are located, Midwest Fastener has a spot nearby where the parts you need can be shipped quickly.
Midwest Fastener is the premier source for high quality construction fastener supply in Kalamazoo and throughout the United States. With a nationwide network of manufacturers at our disposal and warehouses strategically placed throughout the country, we are always ready to provide you with the quality products you need quickly and affordably. Contact us for more information about how Midwest Fastener can help with your construction fastener needs.